Rent items for less than $1 per day!
Students receive a 10% discount on all rental items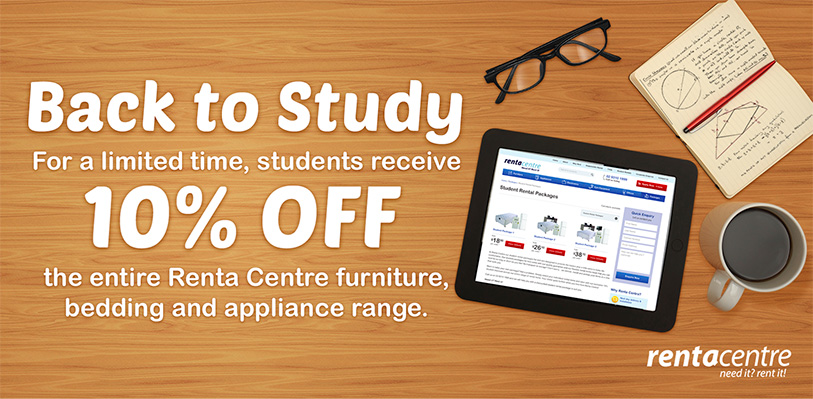 Student Furniture & Appliance Rentals
At Renta Centre we offer affordable rental solutions for furniture, white goods, TVs and other appliances so students can enjoy a comfortable lifestyle, plus some extras, for a low monthly rental cost with no hidden fees. Our 10% student discount will help your rental dollar go further!
Renting is smarter – with lower costs, flexible hire periods, delivery to your residence, free installation and no long term commitments, it's no wonder more and more students are opting to rent rather than buy. Need it? Rent it!
Our rental process is easy…simply select your individual items or pick out one of our discounted student packages and complete an online application form. Rather apply by phone? Call us on (02) 9310 1999 and we can complete your application for you!
Why Students are Renting…
Awesome Student Discounts!
Currently Renta Centre is offering a 10% discount to all students across all items. Simply select your items and provide us with a valid Student Number or ID for your TAFE, college, university or place of learning when you complete your application. Or take advantage of one of our already discounted Student Package Deals!
We know what Aussies want
Renta Centre offers a range of affordable short term furniture hire and appliance and white goods rentals that can be tailored to suit any budget. So whether you are looking rent a bed short term, a fridge or washing machine rental or any other furniture and appliance hire.
Send an enquiry, we would love to hear from you